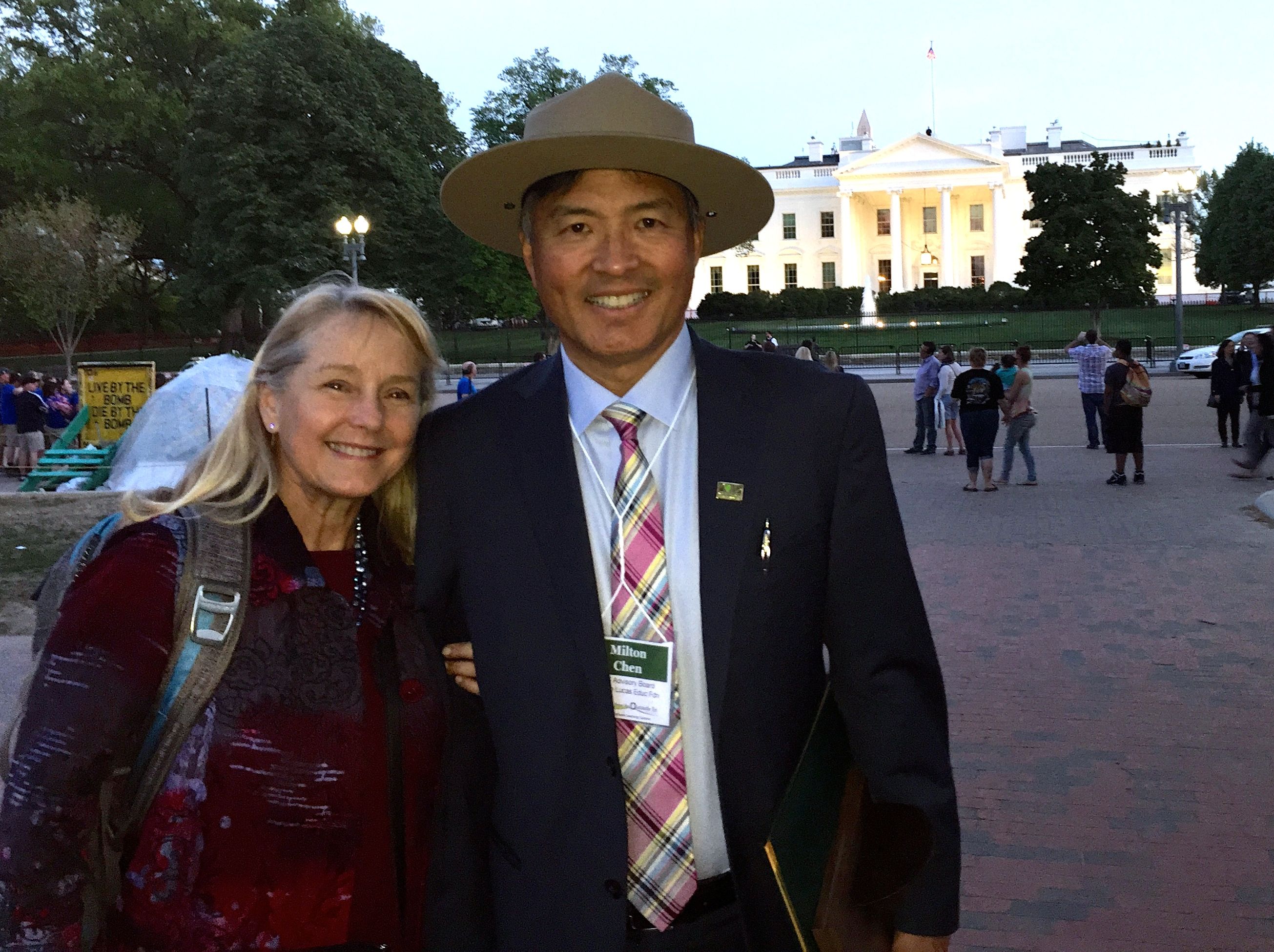 Milton Chen with wife, Ruth Cox, after receiving the National Park Service "flat hat" as an Honorary Park Ranger, in front of the White House, 2016
Selected Awards
Legacy for Children Award, Children's Discovery Museum, San Jose, 2019
Honorary National Park Ranger, 2016
President of NHK Prize, Japan Prize, Tokyo, 2015
Robin Winks Award for Public Understanding, National Parks Conservation Association, 2014
American School Board Journal, top 10 education book of 2010, for Education Nation
Lawrence Hall of Science, UC-Berkeley, Educational Innovation Award, 2010
Fulbright New Century Scholar, 2007-2008, University of Edinburgh
Robert Stephens Award for outstanding communication on public education,
Association of Educational Service Agencies (regional school superintendents), 2008
Fred Rogers Award, Corporation for Public Broadcasting, 2005
Visiting Technology Fellow, Harvard Graduate School of Education, 2003
Technology Leadership Award, Congressional Black Caucus, Washington, DC, 2001
You were selected from one of the most distinguished fields of candidates the AESA Award Committee has had the honor of considering. AESA is pleased with the outstanding research and writing that you have done on behalf of ESAs and public education.
(On receiving the 2008 E. Robert Stephens Award for communication in support of public education, given by regional school superintendents.)
In recognition of your leadership and commitment to transforming park-based education to meet the needs of 21st Century learners; your extraordinary generosity with your time, talents, and relationships; and your contributions to the preservation of our natural and cultural resources for the benefit and enjoyment of this and future generations.
(On receiving the Honorary Park Ranger Award.)